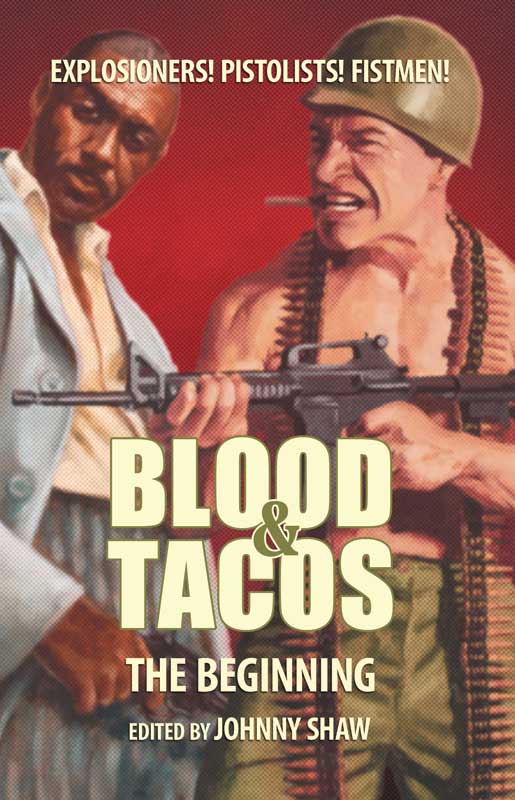 AN EXCLUSIVE OFFER FROM B&T HEADQUARTERS
BLOOD & TACOS: THE BEGINNING, the print-only omnibus that collects the hard-fisted, pistol-packing fiction stories from the first four issues of Blood & Tacos, is now available.
Right here! Right now! And before we make BLOOD & TACOS: THE BEGINNING available to the general public, we are extending a special, limited-time, limited-run offer to our fans (and anyone else that wants to buy it).
For $19.00 (which includes shipping in the US), you can get one of the first 100 books, numbered and signed by both Johnny Shaw and Brace Godfrey, creator of Chingón: The World's Deadliest Mexican. And considering the way Mr. Godfrey has been known to punish his body with alcohol, this might be the last chance to get a signed book from him.
That's right, for a measly 19 clams, you can hold a piece of literary history in your grubby paws. I'm not good at math, but that's a lot of 'splosions and karate chops for your hard-earned bucks. Over 300 pages of mayhem and awesome.
From the four corners of the globe, authors such as Ray Banks, Gary Phillips, Josh Stallings, Robert Kroese, Cameron Ashley, Todd Robinson, Stephen Mertz and a dozen other authors dug up stories of action and adventure that will literally explode your brains.*
Relive the tales of The Silencer, The Albino Wino, Tiger Team Bravo, Father Dukes, The Chemistrator, L.A.N.D.B.O.A.T. (The Boat That Goes on Land), Studs Winslow, Sunshine: Stripper Assassin, Chingón, and all the rest of the Blood & Tacos heroes and heroines that you've grown to adore.
To order with PayPal (or with credit card via PayPal), click on the button below. Be sure to include your shipping address! Allow a couple of weeks for delivery. For international orders, contact us through the site and we will respond quickly with the cost (It ain't going to be cheap).
Blood & Tacos: The Beginning
Everyone here at B&T Headquarters would like to thank our writers and readers for their incredible support over these last couple years. You've helped us to grow and thrive. We'll be back with more stories and surprises in the months to come. And don't forget to check out our Podcasts, Phone App, Kindle issues, and Merch!
*The book will not literally explode your brain.
When you're done with the stories, don't forget to visit those authors' sites in our handy links section in the sidebar so you can find more of their work elsewhere – oh and hey, if you love the artwork, (and how could you not?) visit the site of the extraordinarily talented Roxanne Patruznick, simply by clicking on the cover in the sidebar.
Speaking of which, we at Blood & Tacos would like to specifically thank Roxanne, Michael Batty, Sean Norris, John & Polly Pospisil, and all the authors for their efforts in helping us bring this ridiculously awesome business to life.
So you've been strolling around the net and have seen the cool T-shirt with the cover from Issue #1, and you're saying to yourself, "Damn, how do I get one of those?"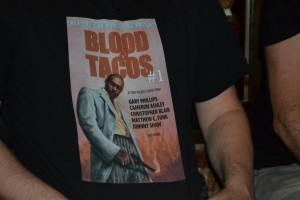 Now you can!
(Here's the shirt in action, in case you haven't seen it already.) So here's the scoop – the shirt is available in Men's sizes S, M, L, & XL, and is 25 bucks for US customers, 35 bucks for elsewhere, with the extra 10 bucks for shipping, all apologies offered.
Please don't forget to specify your size (Men's S, M, L, & XL) and add your shipping address to the Paypal order form! (and please allow 3-5 weeks for shipping).
Click here for US orders: 
International folks with shirt envy click here: